imagine
IMAGINE A CITY WHERE GRAFFITI WASN'T ILLEGAL. A CITY WHERE EVERYBODY COULD DRAW WHEREVER THEY LIKED. WHERE EVERY STREET WAS AWASH WITH A MILLION COLOURS AND LITTLE PHRASES. WHERE STANDING AT A BUS STOP WAS NEVER BORING. A CITY THAT FELT LIKE A PARTY WHERE EVERYONE WAS INVITED. NOT JUST THE ESTATE AGENTS AND BARONS OF BIG BUSINESS. IMAGINE A CITY LIKE THAT.
STOP LEANING AGAINST THE WALL - IT'S WET -
what's the worst thing about street art?
Having to make your mistakes in public
what's the best thing about street art?
Having to make your mistakes in public
banksy.co.uk
...
Alcune persone vogliono rendere il mondo un posto migliore
Io voglio solo rendere il mondo un posto più bello
Se non ti piace, puoi dipingerci sopra !
Some people want to make the world a better place
I just wanna make the world a better-looking place . If you don't like it, you can paint over it !
...
Continuo a dipingere graffiti perché penso sinceramente
che il bordo di un canale sia un posto più interessante per l'arte
che un museo
banksy
Banksy è entrato nell'immaginario collettivo senza mai comparire di persona

Uno dei SOGGETTI più DISEGNATI è il ratto
Banksy NON SI RESE SUBITO conto che anagrammando il nome

rat

dall'inglese SI OTTIENE la parola

Art



www.banksy.co.uk www.instagram.com/banksy
.
www.youtube.com/watch?v=CLb4KWzD5bU - https://youtu.be/yW5rzWYLwg4 - interview 1995
https://youtu.be/GTlm6dU2xHk - https://youtu.be/oHJBdDSTbLw - exit through the gift shop - 2010
https://youtu.be/NF7J1S_oTk4 - graffiti wars trailer - 2011
https://youtu.be/kzPGOCYET9Y - banksy does new york - 2015
https://youtu.be/dUvKPYput-Q - saving banksy - 2017
www.filmitalia.org - https://youtu.be/Ni_ny4POX7A - l'uomo che rubo' banksy - the man who stole banksy - 2018
https://youtu.be/5kye2Aq1xyI - https://youtu.be/5eds3SfIx6w - https://youtu.be/gFSETl_TOTc - banksy-l'arte della ribellione - 2020
focus.it/dismaland-il-parco-banksy - dismaland - 2015
https://streetartnews.net/2020/10/discovering-banksy - 2020
.
nottingham 2020 - protetta da perspex
ho la copia dello stencil che ho usato : è chiaramente mio - post di banksy
artribune.com/nottingham-bimba-con-hula-hoop
.
Io dico a me stesso che uso l'arte per promuovere il dissenso
ma forse sto piuttosto usando il dissenso per promuovere la mia arte
banksy - fb/mudec




We're all in the same boat




nicholas everitt park - lowestoft - england

LOVE IS IN THE BIN

GIRL WITH BALLOON

https://youtu.be/ynHl7bU_aPU - self-destruct - 2018

.

Shredded but still worth over a million euros. Banksy explains why his 'girl with a balloon' destroyed itself moments after it was sold at an auction at Sotheby's in London .

euronews 2018

LA DISTRUZIONE NON E STATA COMPLETA A CAUSA DI UN INCEPPAMENTO DEL COMANDO COME HA SPIEGATO BANKSY SUI SOCIAL.

.

.

bristol -

' Aachoo!! '


streetartutopia.com/aachoo-street-art-by-banksy




I use whatever it takes
Sometimes that just means drawing a moustache on a girl's face on some billboard
sometimes that means sweating for days over an intricate drawing
Efficiency is the key
Le succès commercial est
un signe d'échec pour
un

artiste
de la scène graffiti
2013
SULLA PAGINA FACEBOOK BANKSY SCRIVE

. I'm not on facebook
. People either love me or they hate me
or they don't really care

*
When I was a kid I used to pray every night
for a new bicycle
Then I realised God doesn't work that way
so I stole one and prayed for forgiveness
*
banksy - londra
in futuro tutti avremo 15 minuti di anonimato

I WANT TO BE A NON CONFORMIST JUST LIKE EVERYBODY ELSE The joy of not being sold anything
si chiamere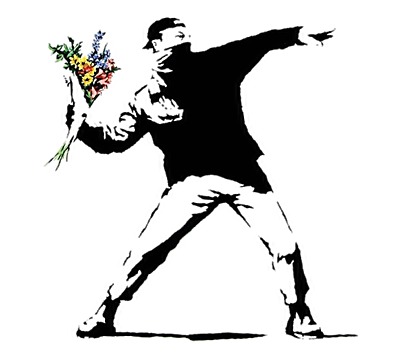 bbe Robin Cunningham - 1974/1975 - originario di Bristol - ex studente Bristol Cathedral School - 2016
messaggero.it - boredpanda.com
http://it.wikipedia.org/wiki/Banksy
BANKSY SAREBBE NATO A BRISTOL dove faceva parte dELLA DryBreadZ Crew GANG .
focus.it/cultura/arte/banksy-origine-tecnica-misteri
.
GEOLOCALIZZAZIONE & BANKSY
secondo le indagini di un gruppo di scienziati della Queen Mary University Londra - il celebre Banksy sarebbe Robin Gunningham - 1974/1975 - nome ipotizzato nel 2008 e ora confermato con la tecnologia di localizzazione geografica .
ilaria betti - huffingtonpost.it - panorama - 2016
.
Banksy perde causa per il marchio del 'Lanciatore di fiori'. Secondo l'organismo dell'Ue, il suo anonimato non permette di identificare il pittore come autore certo .
fb/ansa - 2020
LOVE IS IN THE AIR - vendutO all'asta per 13 milioni di dollari - 2021

.
E LUI ?
A picture has emerged claiming to show elusive street artist Banksy finishing off his most recent artwork in Bethlehem. Dressed in a distinctive fedora hat, the middle-aged man in the photo was wearing grey cargo shorts and a grey fleece and was clutching a stencil and an aerosol can. The image shows him glancing over his shoulder in a courtyard close to the Chapel of the Milk Grotto, a holy site in the ancient town. The stencilled artwork says : Peace on Earth_Terms and Conditions Apply - and appears on the homepage of Banksy's website.
blog.artfido.com - fb/streetartglobe - 13 dic 2017
.
Il grande Banksy potrebbe essere Robert Del Naja, fra i fondatori dei Massive Attack. Una ipotesi avvalorata dal fatto che il ferratissimo produttore Goldie ha detto la seguente frase. "Lo dico con tutto il rispetto per Robert, è un artista brillante che ha rivoluzionato il mondo dell'arte". Robert come Robert Del Naja, appunto, celebre anche con lo pseudonimo 3D con cui si è fatto conoscere nell'ambito della street art di Bristol. Proprio dove ha mosso i primi passi lo street artist osannato in tutto il mondo. Lui, Del Naja, si è semplicemente limitato a commentare con un semplice "Siamo tutti noi Banksy". Niente di più.
s.cagnazzo-nexta - lastampa.it - 7.3.2018
.
DOV'E BANKSY ? - libro - www.agi.it/cultura/banksy
.
IS THIS BANKSY ? - https://youtu.be/ID17_R9Lg8c - intervista 2003
Mi camuffo perché non puoi essere veramente un writer e farti vedere in pubblico .
exibat.com - 2019
.
.
banksy offre il suo aiuto in favore delle 17 biblioteche di Bristol - 27 totali - che rischiano un notevole ridimensionamento per esigenze di bilancio ... Banksy è il cittadino che ha reso la sua città natale la capitale della street art e sono anni che aiuta – seppur indirettamente – le finanze della città diventata con il tempo una meta obbligata per gli appassionati di street art ...
vera monti - artslife.com - luglio 2018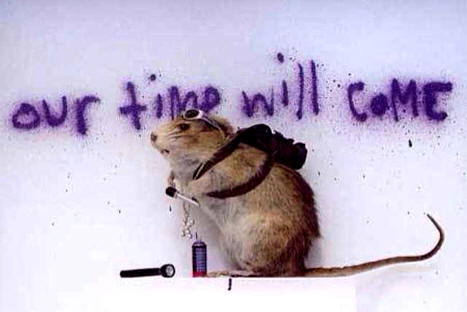 a lot of parents will do anything for their kids except let them be themselves
*

Scoperta l'identità della moglie dell'artista
meno glamour del mondo. Lui crea e fa vita ritirata e lei fa l'impiegata. Joy Millward Lavora per un'azienda di supporto alle campagne politiche e alle iniziative delle organizzazioni no profit. Un lavoro normale di una persona normale, che sta in ufficio al suo computer.
...le sue opere piacciono a Brad Pitt e alla Jolie...
lui circa 36 anni, lei 31, sposati nel 2006 a Las Vegas. Una normale coppia inglese che non ama farsi notare. I loro conoscenti non hanno la minima idea di chi siano in realtà .
redazione - giornalettismo.com - 2011
.
.
Quando King Robbo incontrò Banksy
Robbo ha raccontato questo aneddoto più volte . Banksy lo ha smentito .
Non è possibile capire al 100% quale sia la vera storia ma un fondo di verità esisterà .
Verso la fine degli anni 90, presso l'allora chiamato Dragon Bar nella Old Street di Londra, Robbo si trovava in compagnia di altri writer e viene introdotto a Banksy .
Banksy chiede a Robbo cosa avesse fatto per essere considerato così importante ed alla risposta sospira un "Never Heard Of You", cioè "Non ho mai sentito parlare di te" .
Dire una cosa del genere ad una figura considerata King della scena è vista come una mancanza di rispetto estrema . Robbo, senza pensarci due volte, dà uno schiaffo a Banksy citando le parole "Non avrai mai sentito parlare di me, ma non ti dimenticherai mai di me" .
disagian.it/king-robbo-luomo-che-prese-a-schiaffi-banksy
.
.
*
Non so perché le persone siano così entusiaste di rendere pubblici i dettagli della loro vita privata.
dimenticano che l'invisibilità è un super potere.
I don't know why people are so keen to put the details of their private life in public
they forget that invisibility is a superpower
- banksy
*
LO STREET ARTIST PIU CONOSCIUTO IN RETE
BANKSY