Quel che resta del giorno - scritto nel 1989 diventa film nel 1991 - trailer https://youtu.be/n_ap4Czeo4Y
the remains of the day
Appare sempre più probabile che riuscirò davvero ad intraprendere la spedizione che da alcuni giorni ormai tiene completamente occupata la mia fantasia. Spedizione, vorrei aggiungere, che intraprenderò da solo nella comodità della Ford di Mr Farraday; e che, a quanto prevedo, attraverso gran parte della più bella campagna inglese, mi condurrà fino alla costa occidentale del paese e riuscirà a tenermi lontano da Darlington Hall per cinque o sei giorni almeno. L'idea di un simile viaggio era nata, mi preme sottolinearlo, da una proposta delle più c
ortesi avanzatami da Mr Farraday in persona un pomeriggio di quasi due settimane orsono mentre spolveravo i ritratti in biblioteca. E infatti, a quanto ricordo, mi trovavo in cima alla scala a pioli, intento a spolverare il ritratto del Visconte di Wetherby, allorché aveva fatto il suo ingresso in biblioteca il mio datore di lavoro il quale recava con sé alcuni volumi che presumibilmente desiderava venissero riposti sugli scaffali. Accorgendosi della mia persona, egli colse l'opportunità di informarmi di aver proprio allora definito il programma del suo rientro negli Stati Uniti per un periodo di cinque settimane tra agosto e settembre. Fatto questo annuncio, il signore depose i volumi su un tavolo, prese posto sulla chaise-longue e distese le gambe. Fu solo a quel punto che, fissando lo sguardo su di me, aggiunse:
- Spero sia chiaro, Stevens, che non mi aspetto che te ne rimanga chiuso in questa casa per tutto il tempo in cui sarò via. Perché non prendi la macchina e non te ne vai a fare un giro, per qualche giorno? A vederti hai tutta l'aria di uno che ha bisogno di una vacanza.

incipit
Un maggiordomo di un qualche valore deve vedersi come appartenere al ruolo che ricopre, totalmente e completamente; non lo si deve veder mettere da parte quel ruolo ad un certo momento, per tornare ad indossarlo di nuovo il momento successivo quasi non fosse niente altro che un costume da pantomima . Vi è una situazione ed una soltanto nella quale un maggiordomo che abbia a cuore la propria dignità può sentirsi libero di sgravarsi del proprio ruolo, e cioè quando sia completamente solo .
.
Ma questo non vuol dire, naturalmente, che non vi siano momenti di tanto in tanto – momenti di estrema tristezza – quando pensi tra te e te: "Che terribile errore è stata la mia vita". E allora si è indotti a pensare ad una vita diversa, una vita migliore che si sarebbe potuta avere … Dopotutto ormai non si può più mettere indietro l'orologio. Non si può stare perennemente a pensare a quel che avrebbe potuto essere. Ci si deve convincere che la nostra vita è altrettanto buona, forse addirittura migliore, di quella della maggior parte delle persone, e di questo si deve essere grati … dobbiamo essere grati di ciò che realmente abbiamo.
.
... mentre guidavo in pieno sole in direzione del Berkshire, continuavo a sorprendermi di quanto la campagna circostante mi fosse familiare. Ma ecco che alla fine anche i dintorni si fecero irriconoscibili, cosicché mi resi conto di essere andato al di là di ogni confine precedentemente raggiunto. Ho sentito alcuni descrivere il momento in cui, dopo aver spiegato le vele su una barca, alla fine si perde di vista la terraferma, e immagino che la sensazione di disagio mista ad eccitazione che talvolta viene descritta in rapporto a quel momento debba essere qualcosa di molto simile a ciò che provavo in quella Ford man mano che il paesaggio intorno a me si faceva più estraneo .
.
Mi vien fatto di pensare inoltre, che non sia affatto irragionevole da parte di un datore di lavoro aspettarsi lo scambio di battute spiritose come una incombenza che un vero professionista sia in grado di attuare. naturalmente io ho già dedicato molto tempo a potenziare la mia capacità di pronunciare delle battute spiritose, ma è altresì possibile che io non abbia mai in precedenza affrontato il compito con l'impegno che avrei dovuto dedicargli. È possibile allora che al mio rientro, domani, a Darlington Hall - Mr Farraday non tornerà prima di un'altra settimana - comincerò ad esercitarmi con rinnovato impegno. E di conseguenza con la fiducia che quando il mio padrone tornerà a casa, sarò in grado di fargli una piacevole sorpresa .
.
... E forse allora vi è del buono nel consiglio secondo il quale io dovrei smettere di ripensare tanto al passato, dovrei assumere un punto di vista più positivo e cercare di trarre il meglio da quel che rimane della mia giornata. Dopotutto che cosa mai c'è da guadagnare nel guardarsi continuamente alle spalle e a prendercela con noi stessi se le nostre vite non sono state proprio quelle che avremmo desiderato ?
.
Non vi era certamente nulla, all'epoca, che indicasse che tali in apparenza piccoli incidenti avrebbero reso irrealizzabili dei grandi sogni, e per sempre .
There was surely nothing to indicate at the time that such evidently small incidents would render whole dreams forever irredeemable.
.
it is hardly my fault if his lordship's life and work have turned out today to look, at best, a sad waste—and it is quite illogical that I should feel any regret or shame on my own account.
.
After all, what can we ever gain in forever looking back and blaming ourselves if our lives have not turned out quite as we might have wished ?
.
Indeed - why should I not admit it ? - in that moment, my heart was breaking .
.
The rest of my life stretches out as an emptiness before me .
.
What is pertinent is the calmness of beauty, its sense of restraint. It is as though the land knows of its own beauty, it's own greatness, and feels no need to shout it .
.
What is the point in worrying oneself too much about what one could or could not have done to control the course one's life took? Surely it is enough that the likes of you and I at least try to make our small contribution count for something true and worthy. And if some of us are prepared to sacrifice much in life in order to pursue such aspirations, surely that is in itself, whatever the outcome, cause for pride and contentment.
.
He chose a certain path in life, it proved to be a misguided one, but there, he chose it, he can say that at least. As for myself, I cannot even claim that. You see, I trusted. I trusted in his lorship's wisdom. All those years I served him, I trusted I was doing something worthwhile. I can't even say I made my own mistakes. Really - one has to ask oneself - what dignity is there in that ?

.
.
.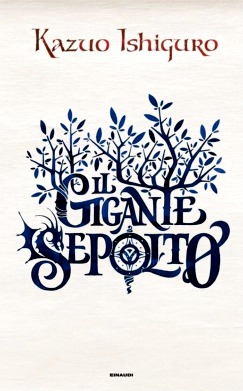 .
il gigante sepolto
non le sembra che la memoria sia un patrimonio indispensabile per l'avvenire di un paese ?
Ogni comunità è selettiva con le proprie rimembranze. A volte scansarle aiuta a mantenere la pace. Per Il gigante sepolto ho pensato ai fatti accaduti in Bosnia, ma non solo. Ovunque si tende a sotterrare certi trascorsi, come hanno dimostrato le presentazioni del libro che ho fatto finora. In ogni paese il pubblico s'innervosiva riguardo a un'area del proprio passato .
leonetta bentivoglio - repubblica.it - 2015

THE BURIED GIANT

When it was too late for rescue, it was still early enough for revenge .
...

The danger isn't the river's speed, friend, but its slowness .

.

.

.
non lasciarmi - NEVER LET ME GO


NEVER LET ME GO kicked off what I now recognize as a new phase in my writing life – an extended project to which I'm still adding today. My latest novel, KLARA AND THE SUN, though different in crucial respects, is perhaps a kind of response to NEVER LET ME GO, an attempt to answer convincingly what seems to me a pervasive sadness that hangs over the older book. - fb/ki - 16.2.2021

PENsavo ai rifiuti, alla plastica che sventolava tra i rami, alla linea di strane cose intrappolate lungo il reticolato, e allora chiusi quasi gli occhi e immaginai che quello fosse il punto dove tutto ciò che avevo perduto dagli anni dell'infanzia era stato gettato a riva; adesso mi trovavo lì, e se avessi aspettato abbastan za, una minuscola figura sarebbe apparsa all'orizzonte in fondo al campo, e a poco a poco sarebbe diventata più grande, finché non mi fossi resa conto che era Tommy, e lui mi avrebbe fatto un cenno di saluto con la mano, forse mi avrebbe chiamata. La fantasia non andò mai al di là di questa immagine - non glielo permisi - e sebbene le lacrime mi rotolas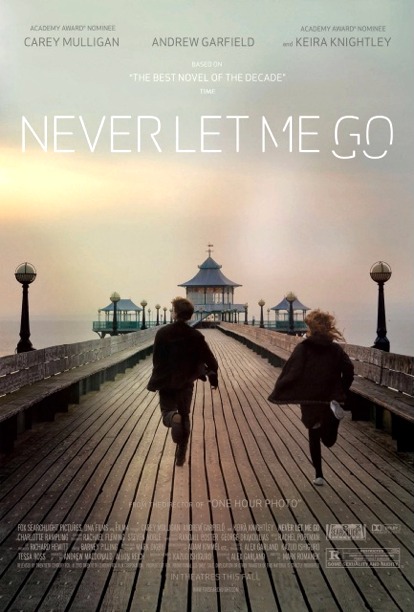 sero lungo le guance, non singhiozzavo né mi sentivo disperata ...
Mi chiamo Kathy H. Ho trentun anni, a da più di undici sono un'assistente. Sembra un periodo piuttosto lungo, lo so, ma a dire il vero loro vogliono che continui per altri otto mesi, fino alla fine di dicembre. A quel punto saranno trascorsi quasi esattamente dodici anni. Adesso mi rendo conto che il fatto che io sia rimasta per tutto questo tempo non significa necessariamente che loro abbiano grande stima di me. Ci sono ottime assistenti a cui è stato chiesto di abbandonare dopo appena due o tre anni. E poi me ne viene in mente almeno una che ha operato per oltre quattordici, malgrado fosse un'assoluta nullità. Quindi non ho nessuna intenzione di darmi delle arie.
Ma per me significa molto, essere in grado di svolgere bene il mio lavoro, specialmente quando si tratta di mantenere «calmi» i miei donatori. Ho sviluppato una sorta di istinto nei loro confronti. So quando è il momento di essere presente e confortarli, quando lasciarli soli con se stessi; so quando ascoltarli, qualunque cosa abbiano da dire, e quando, con un'alzata di spalle, dirgli che è arrivata l'ora di darci un taglio.
Comunque sia, non voglio prendermi tutti i meriti. Conosco altre assistenti, in servizio in questo periodo, che sono altrettanto brave e non ricevono neanche la metà dei riconoscimenti che ricevo io. Se fossi una di loro, capirei un certo risentimento nei miei confronti - il monolocale in affitto, l'auto, e soprattutto il fatto di poter scegliere di chi prendermi cura. E inoltre sono una studentessa di Hailsham - che per alcuni è da solo motivo sufficiente per mandarli su tutte le furie. Kathy H., dicono, sceglie chi vuole, e sceglie sempre quelli come lei; quelli di Hailsham, o qualcuno che proviene da qualche altro posto privilegiato. Non c'è da stupirsi che il suo stato di servizio sia ottimo. L'ho sentito ripetere talmente tante volte che dovete averlo sentito dire anche voi, e forse in tutto questo c'è qualcosa di vero. Ma io non sono certamente la prima a cui viene concesso di scegliere, e dubito di essere l'ultima. E comunque ho fatto anch'io la mia parte prendendomi cura di donatori cresciuti in ogni dove. Tenetelo a mente: quando smetterò di fare questo lavoro saranno passati dodici anni, ed è soltanto negli ultimi sei che mi hanno permesso di scegliere.
E poi per quale motivo non avrebbero dovuto? Gli assistenti non sono mica degli automi. Fai del tuo meglio per ciascun donatore, ma alla fine le forze ti abbandonano. La pazienza e l'energia non sono risorse illimitate. Così, quando hai la possibilità di scegliere, naturalmente scegli qualcuno simile a te. È ovvio. Non sarei potuta andare avanti tutto questo tempo se non fossi riuscita a condividere con i miei donatori ogni singolo attimo della loro esistenza. E comunque sia, se non avessi cominciato a scegliere, come avrei fatto a riavvicinarmi a Ruth e a Tommy dopo tutti questi anni ? ...
Continuo a pensare a un fiume da qualche parte là fuori, con l'acqua che scorre velocissima. E quelle due persone nell'acqua, che cercano di tenersi strette, più che possono, ma alla fine devono desistere. La corrente è troppo forte. Devono mollare, separarsi. È la stessa cosa per noi. È un peccato, Kath, perché ci siamo amati per tutta la vita. Ma alla fine non possiamo rimanere insieme per sempre ...
Ciò che rendeva quella cassetta tanto speciale per me era una canzone in particolare, la numero tre, Never Let Me Go.
È un lento, musica d'atmosfera, tipicamente americano, e c'è quel verso che si ripete quando Judy canta: Non lasciarmi ... Oh, tesoro … Non lasciarmi … Avevo undici anni allora, non avevo molta dimestichezza con la musica, ma quella canzone, be', ne rimasi affascinata. Continuavo a riavvolgere il nastro esattamente nel punto dell'inizio, in modo da poterla ascoltare ogni volta che me se ne offriva l'occasione .
...
Il punto è, immagino, che a quell'epoca eravamo trascinati da correnti impetuose, e c'era soltanto bisogno di un'opportunità come quella per portare a termine il lavoro iniziato . Se allora l'avessimo capito - chissà - forse ci saremmo tenuti più stretti l'uno all'altra.
...
Così quella sensazione mi afferrò di nuovo, sebbene cercassi di allontanarla : la sensazione che fosse ormai troppo tardi; che c'era stato un tempo in cui tutto avrebbe avuto un senso ma che avevamo perso l'occasione e che ci fosse qualcosa di ridicolo, di riprovevole addirittura, nel modo in cui stavamo pensando e pianificando il futuro .
...
Stavo parlando con uno dei miei donatori l'altro giorno, che si lamentava di come i ricordi, anche i più preziosi, svanissero sorprendentemente in fretta . Però io non sono d'accordo . I ricordi che mi sono più cari, mi sembra che non svaniranno mai . Ho perso Ruth, poi ho perso Tommy, ma non perderò i ricordi che serbo di loro .
...
Stavo piangendo per una ragione completamente diversa . Mentre ti osservavo ballare quel giorno, ho visto qualcos'altro . Ho visto un nuovo mondo che si avvicinava a grandi passi . Più scientifico, più efficiente, certo . Più cure per le vecchie malattie. Splendido . E tuttavia un mondo duro, crudele . Ho visto una ragazzina, con gli occhi chiusi, stringere al petto il vecchio mondo gentile, quello che nel suo cuore sapeva non sarebbe durato per sempre, e lei lo teneva fra le braccia e implorava, che non la abbandonasse . Ecco ciò che ho visto . Non eri veramente tu, non era quello che stavi facendo, lo so . Ma ti ho vista e ho sentito il cuore spezzarsi . E non l'ho mai dimenticato .
...
Improvvisamente avevamo a disposizione tutte quelle possibilità, tutti quei modi per curare malattie che fino a quel momento erano state considerate incurabili. Era questo ciò che il mondo vide, ciò che desidero' sopra ogni altra cosa. Per molto tempo la gente ha preferito credere che quegli organi comparissero dal nulla .
Never Let Me Go . a page-turner and a hearthbreaker, a tour de force of knotted tension and buried anguish - time
.
My name is Kathy H. I'm thirty-one years old, and I've been a carer now for over eleven years. That sounds long enough, I know, but actually they want me to go on for another eight months, until the end of this year. That'll make it almost exactly twelve years. Now I know my being a carer so long isn't necessarily because they think I'm fantastic at what I do. There are some really good carers who've been told to stop after just two or three years. And I can think of one carer at least who went on for all of fourteen years despite being a complete waste of space. So I'm not trying to boast ...
Memories, even your most precious ones, fade surprisingly quickly. But I don't go along with that. The memories I value most, I don't see them ever fading.
...
You have to accept that sometimes that's how things happen in this world. People's opinions, their feelings, they go one way, then the other. It just so happens you grew up at a certain point in this process.
...
When we lost something precious
and we'd looked and looked and still couldn't find it, then we didn't have to be completely heartbroken. We still had that last bit of comfort, thinking one day, when we grow up, and we were free to travel around the country, we would always go and find it ...
...
I keep thinking about this river somewhere, with the water moving really fast. And these two people in the water, trying to hold onto each other, holding on as hard as they can, but in the end it's just too much. The current's too strong. They've got to let go, drift apa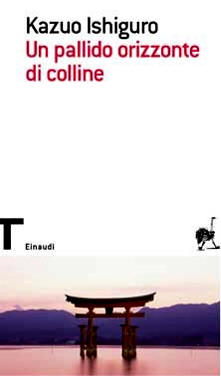 rt. That's how it is with us. It's a shame, Kath, because we've loved each other all our lives. But in the end, we can't stay together forever.
.
.
.
Un pallido orizzonte di colline
Niki, il nome che finalmente demmo alla mia seconda figlia, non è un'abbreviazione, è un compromesso al quale giunsi con suo padre. Paradossalmente, infatti, chi voleva darle un nome giapponese era lui, e io – forse per l'egoistico desiderio che non mi richiamasse il passato – insistevo per un nome inglese. Alla fine il padre accettò Niki, pensando che avesse una vaga risonanza orientale.
A PALE VIEW OF HILLS
As with a wound on one's own body, it is possible to develop an intimacy with the most disturbing of things .
.
.
.
a village after dark
There was a time when I could travel England for weeks on end and remain at my sharpest—when, if anything, the travelling gave me an edge. But now that I am
older I become disoriented more easily. So it was that on arriving at the village just after dark I failed to find my bearings at all. I could hardly believe I was in the same village in which not so long ago I had lived and come to exercise such influence.
There was nothing I recognized, and I found myself walking forever around twisting, badly lit streets hemmed in on both sides by the little stone cottages characteristic of the area.
The streets often became so narrow I could make no progress without my bag or my elbow scraping one rough wall or another. I persevered nevertheless, stumbling around in the darkness in the hope of coming upon the village square—where I could at least orient myself—or else of encountering one of the villagers.
When after a while I had done neither, a weariness came over me, and I decided my best course was just to choose a cottage at random, knock on the door, and hope it would be opened by someone who remembered me.
I stopped by a particularly rickety-looking door, whose upper beam was so low that I could see I would have to crouch right down to enter. A dim light was leaking out around the door's edges, and I could hear voices and laughter. I knocked loudly to insure that the occupants would hear me over their talk. But just then someone behind me said, 'Hello' ...
KI - newyorker.com - 2001
.
.
.
THE UNCONSOLED - GIU INCONSOLABILI
Silence is just as likely to indicate the most profound ideas forming, the deepest energies being summoned.
1995
- Kazuo Ishiguro ha preso l'abitudine di tenere sotto la scrivania una scatola in cui archiviare appunti, bozze, pagine scartate. Da questa scatola arriva lo schema delle "dream techniques" usate da Ishiguro per scrivere Gli inconsolabili .
...
Forse la città degli inconsolabili esiste e prospera davvero in un angolo d'Europa ...
Kazuo Ishiguro disegna qui un universo fragile e complesso, malinconico e labirintico, dove il mistero è la chiave di volta di ogni vicenda, e la speranza - anche se contrastata dall'evidenza dei fatti piú dolorosi - resiste alla forza distruttiva della città degli inconsolabili. Perché potrebbe sempre succedere che «una corda si spezzi all'improvviso e uno spesso sipario cada a terra, rivelando un mondo pieno di luce e di calore».
einaudi
.
.
.
an artist of the floating world - un artista del mondo fluttuante
When you are young, there are many things which appear dull and lifeless. But as you get older, you will find these are the very things that are mo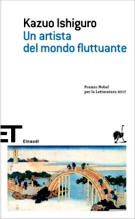 st important to you.
1986
.
fluttuante come Ukiyo-e, come Hokusai, Hiroshige, Utamaro, Utagawa – è ambientato nel Giappone del secondo dopoguerra. Il conflitto è terminato da poco e il Paese è duramente segnato, con la capitolazione simboleggiata dalla doppia terrificante esplosione nucleare su Hiroshima e Nagasaki. Il narratore e protagonista è Masuji Ono, pittore la cui fama è rapidamente e comprensibilmente mutata: ha infatti trascorso gli anni precedenti esaltando i valori imperiali. Un artista organico, quindi, come avrebbe detto Gramsci? Qualcosa di più. Perché, oltre a propagandare le idee del regime attraverso le sue opere, Ono è stato anche un informatore della polizia.
La figura stereotipata del pittore giapponese tradizionale, rigorosissimo in ogni suo gesto, solido nel solco della tradizione anche quando il mondo circostante muta con rapidità, viene pian piano, sul filo delle pagine, scalfito e messo in discussione. Ma con una strategia narrativa atipica: l'uso della prima persona, infatti, è costante, e queste scalfitture il lettore le percepisce attraverso i dubbi che si insinuano nei ragionamenti del narratore, nei giudizi che vede formarsi intorno e su di lui – e soprattutto nella ritrosia, nell'ottusità addirittura, con la quale Ono riconosce i propri errori.
marco enrico giacomelli - artribune.com - 2018
.
.
.
.
C

ROONER
NOCTURNES : FIVE STORIES OF MUSIC AND NIGHTFALL

Plenty of couples, they start off loving each other, then get tired of each other, end up hating each other. Sometimes though it goes the other way .
...

Deve uscirne ora, finché è in tempo. In tempo per ritrovare l'amore, sposarsi di nuovo. Ha bisogno di uscirne prima che sia troppo tardi .


crooner - 2009

.

.

.

It's all right - I'm not upset

After all, they were just things. When you've lost your mother and your father, you can't care so much about things, can you ?
when we were orphans - 2000
.
.
.

THE GOURMET

The Gourmet is set largely in a London church that offers a soup kitchen and overnight shelter for the city's tramps. The scriptural roots of its charitable mission are proclaimed on a plaque carrying a quotation from St. Mathew's gospel:
I was hungry and you gave me food - I was thirsty and you gave me drink - I was a stranger and you welcomed me.

www.npr.org/sections/about-eating-a-ghost

- https://granta.com/the-gourmet-kazuo-ishiguro

.

.

.

When We Were Orphans

- TV has now become such an exciting way to tell stories – so much is possible – and I can't tell you how thrilled I am about the company that gave us 'Peaky Blinders' developing my London/Shanghai 'detective novel' - said ishiguro ...
Two other Ishiguro novels, The Remains of the Day and Never Let Me Go, have been adapted into critically acclaimed movies. When We Were Orphans follows detective Christopher Banks as he unravels the mystery surrounding the disappearance of his parents during his childhood in Shanghai.
stewart clarke - variety.com - 2018 - fb/ki

.

.

.

La mia sera del ventesimo secolo e altre piccole svolte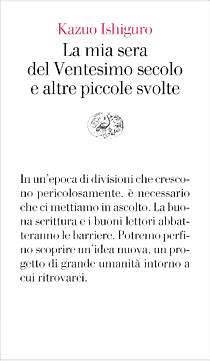 In un'epoca di divisioni che crescono pericolosamente, è necessario che ci mettiamo in ascolto. La buona scrittura e i buoni lettori abbatteranno le barriere. Potremo perfino scoprire un'idea nuova, un progetto di grande umanità intorno a cui ritrovarci.
Nel conferire il Premio Nobel per la Letteratura a Kazuo Ishiguro, l'Accademia di Svezia ha riconosciuto la forza emotiva della sua scrittura e la sua maestria nello svelare il nostro illusorio senso di connessione con il resto del mondo. Nella lezione eloquente e schietta che ha tenuto a Stoccolma, e che qui pubblichiamo, Ishiguro ha riflettuto sul modo in cui la sua educazione lo ha formato e sui punti di svolta della propria carriera, «eventi marginali ... quiete scintille di rivelazione personale», che lo hanno trasformato nello scrittore che è oggi. Con la stessa generosa umanità che impreziosisce i suoi romanzi, Ishiguro guarda qui al di là di se stesso, al mondo che le nuove generazioni di scrittori stanno affrontando; e a ciò che significherà - e richiederà - adoperarsi perché la letteratura resti non soltanto viva, ma anche essenziale. Un testo di grande interesse sulla scrittura e sul divenire scrittori, da parte di uno dei romanzieri piú autorevoli della nostra generazione.
einaudi.it - 2018
ho voluto sottolineare in questa sede gli aspetti piccoli e privati della vita, perché in fondo di questo si occupa il mio lavoro. Una persona che scrive in silenzio in una stanza cercando di entrare in contatto con un'altra persona che in un'altra stanza più o meno silenziosa legge.
Una storia può divertire, insegnare qualcosa, a volte sostenere un punto di vista. Ma per me è fondamentale che trasmetta sensazioni. Che faccia appello a ciò che noi esseri umani condividiamo al di là di confini e divergenze.
Grandi e splendide industrie si ergono intorno alle storie: editoria, cinema, televisione, teatro. Ma alla fine tutto si risolve in una persona che dice a un'altra:
Questo è ciò che sento io. Riesci a capire quello che dico? È lo stesso anche per te? -ki
ilpost.it - annalena benini_ilfoglio.it - 2018
.
.
.
The s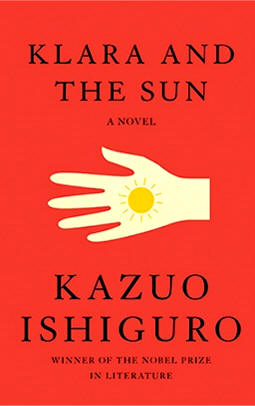 un always has ways to reach us


From her place in the store that sells artificial friends, Klara--an artificial friend with outstanding observational qualities--watches carefully the behavior of those who come in to browse, and of those who pass in the street outside. She remains hopeful a customer will soon choose her, but when the possibility emerges that her circumstances may change forever, Klara she is warned not to invest too much in the promises of humans. In this luminous tale, Klara and the Sun, Nobel Prize winner Kazuo Ishiguro looks at our rapidly changing modern world through the eyes of an unforgettable narrator to explore a fundamental question: what does it mean to love?
books.google - dal 2.3.2021

Kazuo Ishiguro's first novel since winning the Nobel Prize in Literature, KLARA AND THE SUN – a luminous tale about the human heart and what it means to love – will publish simultaneously in the US, UK, and Canada on March 2, 2021.
fb/ki

Huge news ! Kazuo Ishiguro's forthcoming novel Klara and the Sun will be coming to the big screen as Hollywood snaps up film rights .
fb/ki - 28.7.2020

the pandemic has drawn attention to the power of books : Stuck in our houses, which have become our sanctuaries, we realize how important books are. You can go somewhere in your head and on your own -ki
fb/ki - 11.11.2020 - www.publishersweekly.com/kazuo-ishiguro

.

.

.