SANDRA CISNEROS
MY WICKED WICKED WAYS

ODD FOR SUCH A CITY POET LIKE ME
TO FIND SUCH COMFORT IN THE DARK--
I WHO ALWAYS FEARED IT--AND YET
I LOVED THE WAY IT WRAPPED ME LIKE A SKIN.
. letter to Ilona from the south of france






BLACK LACE BRA KIND OF WOMAN

WATCHALE! SHE'S A BLACK LACE BRA
KIND OF WOMAN, THE KIND WHO SERVES
UP SUICIDE WITH EVERY KAMIKAZI
POURED INTO NEON BLUE OF EVENING
A TEASE AND A TWIRL. I'VE SEEN THAT
TWO-STEP GIRL IN ACTION. I'VE GAMBLED BAD
ODDS AND SAT SHOTGUN AS SHE RAMBLED
HER '59 PONTIAC BETWEEN THE BLURRED
LINES DIVIDING SENSE FROM SENSELESSNESS
RUIN YOUR CLOTHES, SHE WILL.
GET YOU HOME AFTER HOURS
DRIVING HER '59 SEVENTY FIVE ON 35
LIKE THERE IS NO TOMORROW.
WOMAN ZYDECO-ING INTO HER OWN DECADE.
THIRTY YEARS PLEATED BEHIND HER LIKE
THE WAIL OF A SAN ANTONIO ACCORDION.
AND NOW THE GOOD TIMES ARE COMING. GIRL,
I TELL YOU, THE GOOD TIMES ARE HERE.
. loose woman 1994



YOU BRING OUT THE MEXICAN IN ME.
THE HUNKERED THICK DARK SPIRAL.
THE CORE OF A HEART HOWL.
THE BITTER BILE.
THE TEQUILA LÁGRIMAS ON SATURDAY ALL
THROUGH NEXT WEEKEND SUNDAY.
YOU ARE THE ONE I'D LET GO THE OTHER LOVES FOR,
SURRENDER MY ONE-WOMAN HOUSE.
ALLOW YOU RED WINE IN BED,
EVEN WITH MY VINTAGE LACE LINENS.
MAYBE. MAYBE.
FOR YOU.
YOU BRING OUT THE DOLORES DEL RÍO IN ME.
THE MEXICAN SPITFIRE IN ME.
THE RAW NAVAJAS, GLINT AND PASSION IN ME.
THE RAISE CAIN AND DANCE WITH THE ROOSTER-FOOTED DEVIL IN ME.
THE SPANGLED SEQUIN IN ME.
THE EAGLE AND SERPENT IN ME.
THE MARIACHI TRUMPETS OF THE BLOOD IN ME.
THE AZTEC LOVE OF WAR IN ME.
THE FIERCE OBSIDIAN OF THE TONGUE IN ME.
THE BERRINCHUDA, BIEN-CABRONA IN ME.
THE PANDORA'S CURIOSITY IN ME.
THE PRE-COLUMBIAN DEATH AND DESTRUCTION IN ME.
THE RAINFOREST DISASTER, NUCLEAR THREAT IN ME.
THE FEAR OF FASCISTS IN ME.
YES, YOU DO. YES, YOU DO.
YOU BRING OUT THE COLONIZER IN ME.
THE HOLOCAUST OF DESIRE IN ME.
THE MEXICO CITY '85 EARTHQUAKE IN ME.
THE POPOCATEPETL/IXTACCIHUATL IN ME.
THE TIDAL WAVE OF RECESSION IN ME.
THE AGUSTÍN LARA HOPELESS ROMANTIC IN ME.
THE BARBACOA TAQUITOS ON SUNDAY IN ME.
THE COVER THE MIRRORS WITH CLOTH IN ME.
SWEET TWIN. MY WICKED OTHER,
I AM THE MEMORY THAT CIRCLES YOUR BED NIGHTS,
THAT TUGS YOU TAUT AS MOON TUGS OCEAN.
I CLAIM YOU ALL MINE,
ARROGANT AS MANIFEST DESTINY.
I WANT TO RATTLE AND RENT YOU IN TWO.
I WANT TO DEFILE YOU AND RAISE HELL.
I WANT TO PULL OUT THE KITCHEN KNIVES,
DULL AND SHARP, AND WHISK THE AIR WITH CROSSES.
ME SACAS LO MEXICANA EN MI,
LIKE IT OR NOT, HONEY.
YOU BRING OUT THE ULED-NAYL IN ME.
THE STAND-BACK-WHITE-BITCH-IN ME.
THE SWITCHBLADE IN THE BOOT IN ME.
THE ACAPULCO CLIFF DIVER IN ME.
THE FLECHA ROJA MOUNTAIN DISASTER IN ME.
THE DENGUE FEVER IN ME.
THE ¡ALARMA! MURDERESS IN ME.
I COULD KILL IN THE NAME OF YOU AND THINK
IT WORTH IT. BRANDISH A FORK AND TERRORIZE RIVALS,
FEMALE AND MALE, WHO LOITER AND LOOK AT YOU,
LANGUID IN YOU LIGHT. OH,
I AM EVIL. I AM THE FILTH GODDESS TLAZOLTÉOTL.
I AM THE SWALLOWER OF SINS.
THE LUST GODDESS WITHOUT GUILT.
THE DELICIOUS DEBAUCHERY. YOU BRING OUT
THE PRIMORDIAL EXQUISITENESS IN ME.
THE NASTY OBSESSION IN ME.
THE CORPORAL AND VENIAL SIN IN ME.
THE ORIGINAL TRANSGRESSION IN ME.
RED OCHER. YELLOW OCHER. INDIGO. COCHINEAL.
PIÑÓN. COPAL. SWEETGRASS. MYRRH.
ALL YOU SAINTS, BLESSED AND TERRIBLE,
VIRGEN DE GUADALUPE, DIOSA COATLICUE,
I INVOKE YOU.
QUIERO SER TUYA. ONLY YOURS. ONLY YOU.
QUIERO AMARTE. AARTE. AMARRARTE.
LOVE THE WAY A MEXICAN WOMAN LOVES. LET
ME SHOW YOU. LOVE THE ONLY WAY I KNOW HOW.
loose woman 1994

spesso nelle recensioni dei tuoi libri ricorre la parola "magia": esiste una magia del cuento? la parola ha un potere?
Probabilmente i critici vogliono alludere al realismo magico, la corrente letteraria sudamericana, ma io non mi sento affatto vicina a quella impostazione: io non vedo nessuna magia, credo che quello che racconto sia piuttosto tragico. Non voglio in nessun modo essere avvicinata a una letteratura che ammicca al fantastico, a temi del genere. Voglio rimanere attaccata con le unghie e con i denti alla realtà.
david frati - mangialibri.com





lei ama parlare di "chicanismo". Di che cosa si tratta?
"Chicanismo" è un po' come femminismo. Non è che se sei una donna sei per forza femminista, e che se sei mexican american sei chicanista. Chiè nato negli Stati Uniti da una famiglia d'origine messicana a volte vive un'esistenza profondamente "colonizzata". Ma se diventa consapevole della storia e dell'oppressione vissuta dagli immigrati, e decide di fare resistenza, di impegnarsi per la comunità, di scrivere libri per il cambiamento sociale, ecco che fa del chicanismo.
giovanni godio - stpauls.it
i'm concerned that the young people
are not seeing themselves in the books that they read
biblio

caramelo
hairs - pelitos - per bambini

bad boys - poesie
loose woman - poesie
my wycked - wicked ways - poesie
the house of mango street
woman hollering creek
vintage cisneros

FOSSO DELLA STRILLONA

have you seen marie ?

A HOUSE OF MY OWN

bravo bruno

purple house

PURO AMOR - short stories

PICCOLI MIRACOLI

festivaletteratura mantova

sandracisneros.com

zam.it

with you
i'm useless with words
as if somehow i had
to learn to speak
all over again
as if the words i needed
haven't been invented
yet

sandra cisneros - facebook

CISNEROS VIENE TRADOTTA

IN PIU DI 20 INGUE AL 2019




Thomas Wolfe Prize

'The faculty chose her based upon her body of work and her excellence and her life as a working writer'

Susan Irons - director Thomas Wolfe Prize and Lecture - 2014
.

.
national medal of arts by barack obama at the white house - 2016

.

.

PEN/Nabokov Award for Achievement in International Literature

' living author whose body of work, either written in or translated into English, represents the highest level achievement in fiction, nonfiction, poetry, and or/drama, and is of enduring originality and consummate craftsmanship '

I dedicate this award to my immigrant father, whose longing for home taught us to love and know our own story - sc

lithub.com/sandra-cisneros-a-dedication - https://youtu.be/F77jbTERl94 - ceremony - 2019

.

I think all writing and all art is a spiritual act - sc
latimes.com/books/cisneros-interview - 2019

.
PI
CCOLI MIRACOLI
Un coro di voci femminili, storie o istantanee di vita. Le tre parti che compongono il libro riflettono la crescita da bambina a donna delle protagoniste, con una variazione di temi, ritmi e registri linguistici che mettono in luce le straordinarie capacità narrative di Sandra Cisneros. Immagini, colori e odori emergono dalle pagine con una forza narrativa senza uguali: la scrittura figurativa di Cisneros, la sua bravura nel dipingere veri e propri affreschi, dando loro non solo una dimensione visiva, ma anche olfattiva e sonora, appare in questa raccolta in tutta la sua potenza. Ingenuità e passionalità, ma anche disincanto e amarezza caratterizzano le protagoniste di questi racconti in una società in cui i ruoli dell'uomo e della donna sono cristallizzati in rapporti di subalternità.
ibs - 2019
... il modo in cui si cresce è un po' come una cipolla o come i cerchi nei tronchi degli alberi o come le mie bamboline di legno che entrano una dentro l'altra.
... Per un attimo non voglio pensare né al tuo passato né al tuo futuro. Perché adesso sei qui e sei mio.
... Ti dipingo e ridipingo come mi pare
maria anna patti - repubblica.it - 2019

My Wicked Wicked Ways

This is my father.
See? He is young.
He looks like Errol Flynn.
He is wearing a hat
that tips over one eye,
a suit that fits him good,
and baggy pants.
He is also wearing
those awful shoes
the two-toned ones
my mother hates.
Here is my mother.
She is not crying.
She cannot look into the lens
because the sun is bright.
The woman
the one my father knows
is not here.
She does not come till later.
My mother will get very mad.
Her face will turn red
and she will throw one shoe.
My father will say nothing.
After a while everyone
will forget it.
Years and years will pass.
My mother will stop mentioning it.
This is me she is carrying.
I am a baby.
She does not know
I will turn out bad.

First published in 1987, in MY WICKED WICKED WAYS Cisneros embraces her first passion - verse - in poems remarkable for their plainspoken radiance.

In lines both comic and sad, the author of The House on Mango Street deftly - and dazzlingly - explores the human experience.

For those familiar with Cisneros only from her fiction, MY WICKED WICKED WAYS shows the acclaimed author in an entirely new light, and for readers everywhere, here is a showcase of one of our most powerful writers at her lyrical best.

fb/sc - 2015

facebook.com/RealAmericaWithJorgeRamos - fb/sc

interview - two countries one heart - 2019

A HOUSE OF MY OWN
a richly illustrated compilation of true stories and nonfiction pieces that, taken together, form a jigsaw autobiography: an intimate album of a literary legend's life and career.
From the Chicago neighborhoods where she grew up and set her groundbreaking The House on Mango Street to her abode in Mexico, in a region where "my ancestors lived for centuries," the places Sandra Cisneros has lived have provided inspiration for her now-classic works of fiction and poetry. But a house of her own, where she could truly take root, has eluded her. With this collection--spanning nearly three decades, and including never-before-published work--Cisneros has come home at last.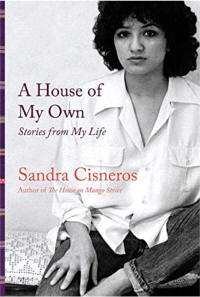 Ranging from the private (her parents' loving and tempestuous marriage) to the political (a rallying cry for one woman's liberty in Sarajevo) to the literary (a tribute to Marguerite Duras), and written with her trademark sensitivity and honesty, these poignant, unforgettable pieces give us not only her most transformative memories but also a revelation of her artistic and intellectual influences. Here is an exuberant, deeply moving celebration of a life in writing lived to the fullest--an important milestone in a storied career.
amazon - 2015
.
A long time ago, which was yesterday, I could tell time by the typeface on my manuscripts. I mean yesterday BC—Before Computers. I owned a variety of manual typewriters and only gradually and reluctantly moved into the electronic world without somehow ever managing to get ahold of the Rolls-Royce of typewriters—an IBM.
I roamed about the earth and borrowed typewriters in Greece, France, the former Yugoslavia, Mexico, and throughout the United States. My manuscripts were sheaves of paper with holes from where the placket struck the page too fiercely. And everywhere I went, the poems or stories or essays I typed, with their mismatched typefaces and consistent typing errors, reminded me, like passport stamps, where I'd been.
stories from my life - a house of my own - sandra cisneros - pen.og - 2019
.
I have always been a daydreamer, and that's a lucky thing for a writer. Because what is a daydreamer if not another word for thinker, visionary, intuitive-all wonderful words synonymous with 'girl' .
.
I wore my hair long and curly like the Cretan priestesses who leapt over the backs of bulls and held snakes in their hands. I was creating. I had my own money. And, I had a house of my own. This to me was power .
.
I'm gathering up my stray lambs that have wandered out of sight and am herding them under one roof, not so much for the reader's sake, but my own, - Cisneros writes in the introduction to A House of My Own, her new memoir. Where are you, my little loves, and where have you gone? Who wrote these and why? I have a need to know so that I can understand my life.
Any regrets?
None about men or the choices in my art. I have regrets about things I had to let go. Animals. I regret I had to find homes for some of my pets when I moved to Mexico. It was so sad for me. When I adopt animals, I promise to be there to the end. Until death. I felt I had broken a promise. But I don't regret mistakes or people that broke my heart or the choices I made to follow my writing. I had to make those choices.
maggie galehouse - houstonchronicle.com
A house for me is a space to decide whether I want to be sad and not turn on the lights, to sleep until noon or beyond, read a book propped up by fringed pillows, shut off the ringer of the phone, wear my pajamas all day, and not venture farther than the backyard fence if I feel like it.
from tenemos layaway or how I became an art collector
fb/sc - 2015
so what's next for you, and your travels—recently you've finished the book, and you were just here in Portland for Wordstock–what do you like to do here?
I actually considered moving to Portland. I didn't. I couldn't do it. I think it was a little homogenous for me. But I love visiting Portland. I love being on book tour, and that's what I'm doing next. I'm excited to visit literary places and whenever I'm in town I just want to walk around and appreciate the beautiful trees. Portland's a literary city for me, like Rome or Buenos Aires, where you know everyone will appreciate a good book.
olivia olivia - therumpus.net - fb/sc - 2016
.
https://youtu.be/skiMc8Qsy8c - interview 2016
.
We do this because the world we live in is a house on fire and the people we love are burning
SC on why she writes - fb/sc 8.3.2019
Caramelo - Puro cuento - Una famiglia messicana
E' la bambina Celaya- dietro cui si nasconde la scrittrice stessa- che racconta: è la più piccola di sette fratelli, unica femmina a cui il padre si rivolge con le dolci parole, 'cielo mio', e alla sua voce si mischiano quelle dei fratelli, divisi in due gruppi di "grandi" e "piccoli", del papà e della mamma, degli zii e delle zie, dei nonni. Alcune più prepotenti, altre che fanno fatica ad udirsi, sommerse dai toni più forti. Un inizio che ci travolge con una folla di personaggi, tutti con un soprannome o un diminutivo: i fratelli si chiamano Rafa, Ito, Tikis, Toto, Lolo e Memo, uno zio è Faccia Grassa, un altro è zio Bimbo, e c'è una Nonna Tremenda e un Nonno Piccolo, solo per dirne alcuni.
stradanove.net
The girl Candelaria had skin bright as copper veinte centavos coin after you've sucked on it. Not transparent as an ear like Aunty Light-Skin's. Not shark-belly pale like Father and the Grandmother. Not red river-clay like Mother and her family. Not the coffee-with-too-much milk color like me, nor the fried-tortilla color of the washerwoman her mother Amparo. Not like anybody. Smooth as peanut butter, deep as brunt-milk candy.
mdbrady.wordpress.com
.
How before my body wasn't my body. I didn't have a body. I was a being as close to a spirit as a spirit. I was a ball of light floating across the planet. I mean the me I was before puberty, that red Rio Bravo you have to carry yourself over. I don't know how it is with boys. I've never been a boy. But girls somewhere between the ages of, say, eight and puberty, girls forget they have bodies. It's the time she has trouble keeping herself clean, socks always drooping, knees pocked and bloody, hair crooked as a broom. She doesn't look in mirrors. She isn't aware of being watched. . . . There isn't the sense of the female body's volatility, its rude weight, the nuisance of dragging it about. There isn't the world to bully you with it, bludgeon you, condemn you to a life sentence of fear. It's the time when you look at a young girl and notice she is her ugliest, but at the same time, at her happiest. She is a being as close to a spirit as a spirit .
fb/sc - 2018

Purple House
Sandra Cisneros lives in the King William Historical District of San Antonio in a house which she painted periwinkle. This caused some controversy among the neighborhood and gained coverage in local media. Cisneros states: "The issue is bigger than my house. The issue is about historical inclusion. I want to paint my house a traditional color, but please give me a broader palette than surrey beige, sevres blue, hawthorn green, frontier days brown, and Plymouth Rock grey. . . . I thought I had painted my house a historic color. Purple is historic to us. It only goes back a thousand years or so to the pyramids. It is present in the Nahua codices, book of the Aztecs, as is turquoise, the color I used for my house trim; the former color signifying royalty, the lat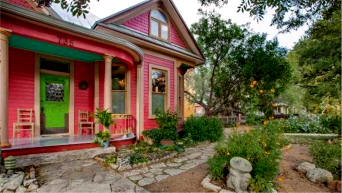 ter, water and rain."
Most recently, Cisneros changed the color of her house from periwinkle to pink.
http://en.wikipedia.org/wiki/Sandra_Cisneros
PURPLE HOUSE VENDUTA - Sandra Cisneros Sold Her House on Guenther Street
Sandra Cisneros fought for her periwinkle purple house on Guenther Street in San Antonio.
Back in 1997, shortly after she bought the place, she became embroiled in a legal fight with the San Antonio Historic and Design Review Commission, who opposed the idea of the MacArthur "Genius" Grant recipient and House On Mango Street author painting her house an unapproved color. Cisneros was challenged to prove that her preferred shade of purple was "historically appropriate."
. My history is made up of a community whose homes were so poor and unimportant as to be considered unworthy of historic preservation. No famous architect designed the houses of the tejanos, and there are no books in the San Antonio Conservation Society library about houses of the working-class community, no photos romanticizing their poverty, no ladies' auxiliary working toward preserving their presence. Their homes are gone; their history is invisible. The few historic homes that survived have access cut off by freeways because city planners did not judge them important .
dan solomon - texasmonthly.com - 2015
One day I painted my house tejano colors; the next day, my house is in all the news, cars swarming by, families having their photos taken in front of my purple casita as if it were the Alamo. The neighbors put up an iced-tea stand and made 10 dollars ! .
All this happened because I chose to live where I do. I live in San Antonio because I'm not a minority here. I live in the King William neighborhood because I love old houses. Since my neighborhood is historic, certain code restrictions apply. Any house alteration plans must be approved by the Historic Design and Review Committee. This is to preserve the neighborhood's historic character, and that's fine by me.
andrea gompf - remezcla.com - 2016
library
the room of my own I had always been dreaming about
. . uninterrupted time to think and imagine . .
mysanantonio.com
HAVE YOU SEEN MARIE ?
it wasn't written for children as none of my works are
I wrote it for myself to deal with my own grief and it helped transform me
The internationally acclaimed author of The House on Mango Street gives us a deeply moving tale of loss, grief, and healing: a lyrically told, richly illustrated fable for grown-ups about a woman's search for a cat who goes missing in the wake of her mother's death.
The word "orphan" might not seem to apply to a fifty-three-year-old woman. Yet this is exactly how Sandra feels as she finds herself motherless, alone like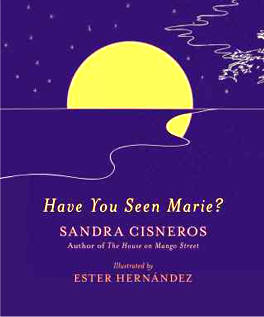 "a glove left behind at the bus station." What just might save her is her search for someone else gone missing: Marie, the black-and-white cat of her friend, Roz, who ran off the day they arrived from Tacoma. As Sandra and Roz scour the streets of San Antonio, posting flyers and asking everywhere, "Have you seen Marie?" the pursuit of this one small creature takes on unexpected urgency and meaning. With full-color illustrations that bring this transformative quest to vivid life, Have You Seen Marie? showcases a beloved author's storytelling magic, in a tale that reminds us how love, even when it goes astray, does not stay lost forever.
amazon.com
The illustrated fable starts as a search for a friend's missing cat but quickly becomes a meditation on loss, a way for the main character, also named Sandra, to process her mother's death. As Sandra and her friend Roz search San Antonio for Marie, questioning not just Sandra's neighbors but also their pets and the neighborhood squirrels, Sandra goes on her own inner quest to make peace with her profound grief..."
San Francisco Chronicle
What did you learn about yourself from this book?
Every time I write, I gain something – that's how I know I'm done writing. Reading this story aloud and writing it was transformational and healing; it nourished my spirit. I truly believe you cannot overcome grief. You pass through it and it will always accompany you. This book, creating art, made me understand that my profession is a way for me to nourish myself when my spirit was dying. During grief your heart is broken open and you become open to light, intuition, creativity and beauty. The art comes as you do the work of briefing. And you should create, because it's a way to transform that darkness into light, weave that straw into gold. Otherwise you become stuck and deprive yourself of an opportunity to grow spiritually.
Did you ever think as a young writer that you'd be so famous? How has that changed your life and career?
Yes and no. I think we all have moments of clairvoyance and see a hint of the future. I did sense that I would be popular and reach lots of people; I knew that from the very beginnin
g with 'The House on Mango Street.' But at the same time, I took typing lessons and learned skills so I would have something to fall back on. I was practical about living my life and being able to earn my own money because I knew the men I selected would be gone – which was true – and I created lots of parachutes, so that I could take care of myself.
nina terrero - nbclatino.com
tutta l'arte è autobiografica - la perla è l'autobiografia dell'ostrica
I'm reminded of a favorite quote by Fellini "The pearl is the oyster's autobiography" - Each time I told the story of my mother's death I was an oyster adding another layer of nacre to the invading sand grain. Each telling shaped the story and allowed me to gradually transform a wound into a pearl. And survive.
lareviewofbooks.org
What inspired you to write "Have You Seen Marie?"
I was working on the 25th anniversary tour of "The House on Mango Street." I wanted to make a small book that people could have or give to someone in a place of grief. My mother had just passed, but I still felt the need to create something. My friend and artist of the book, Ester Hernandez, had just lost her mother too, and I proposed that she join me, and she very reluctantly joined the project.
cindy y.rodriguez - edition.cnn.com
All of my work is influenced by fairy tales
and I hope my work shows Hans Christian Andersen's influence. He wrote for adults, but he was aware that children were in the room. And now people think it's for children! This is the thing people don't realize -- Hans Christian Andersen and The Brothers Grimm were ethnographers collecting spoken stories.
And who spoke those stories? Women.
Who passed them down from one generation to the next? Grandmothers. Men collected them and put their names on it ! However Hans Christian Andersen took grandmothers' superstitions and polished them with his poetry and made something really beautiful, introducing spoken Danish to Danish literature.
That sounds a lot like this new psychological practice called bibliotherapy.
That's actually a very old concept from the Native Americans, so I'm not inventing that, I'm repeating that from elders and ancestors who know that stories are medicine.
huffingtonpost.com - 2012
anche Sandra Cisneros nell'adattamento teatrale di Have You Seen Marie ?
Author Sandra Cisneros said she isn't nervous about making her stage debut during the 24th annual Macondo Writers Workshop. She'll be playing the role of the San Antonio River in an adaptation of her short story Have You Seen Marie?
expressnews.com - 2019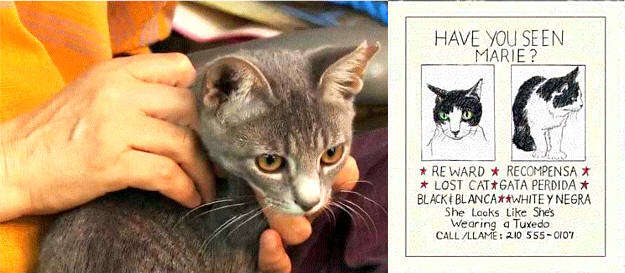 https://youtu.be/RqsO0s45ovM - have you seen maria ?
why the book is for kids and adults alike:
"I kept insisting this when I was reading this when it was still in paper form and it wasn't even a book, 'Oh no, no this isn't for children," but I had to concede that its for everybody. I will read it to adults and there will be children in the room. Children are the most honest critics, most difficult critics. If they don't like something they'll get up and leave. They would stay until the last paragraph. They were listening. Afterwards they would come up to me and say, 'Are you the lady that read the story about the cat ?
For them its a story about a cat … It's a story, I have to admit now, for orphans little and big, or people who have had a loss little and big."
scpr.org/programs/take-two - 2012
Woma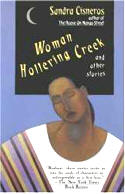 n Hollering Creek - FOSSO DELLA STRILLONA
Sandra Cisneros' Woman Hollering Creek is the follow-up novel to her triumphant and acclaimed The House on Mango Street. … a collection of short stories strung together in a unified text. These stories may be read … individually…
The language in this piece is haunting. Her description of a broken human heart is comparable with a small wounded animal that needs to be put out o
f its misery.
… the beautiful language Cisneros uses to capture the sentiments of the human heart. ...
… Spanish whirred like silk, rolled and puckered and hissed …
michelle cannon - examiner.com
Un coro di voci femminili, storie o istantanee di vita. Le tre parti che compongono il libro riflettono la crescita da bambina a donna delle protagoniste, con una variazione di temi, ritmi e registri linguistici che mettono in luce le straordinarie capacità narrative di Sandra Cisneros. Immagini, colori e odori emergono dalle pagine con una forza narrativa senza uguali: la scrittura figurativa della Cisneros, la sua bravura nel dipingere veri e propri quadri, dando loro non solo una dimensione visiva, ma anche olfattiva e sonora, appare in questa raccolta in tutta la sua potenza. Ingenuità e passionalità, ma anche disincanto e amarezza caratterizzano le protagoniste di questi racconti in una società in cui i ruoli dell'uomo e della donna sono cristallizzati in rapporti di subalternità.
ibs - 2012
Rachel says that love is like a big black piano being pushed off the top of a three-story building and you're waiting on the bottom to catch it. But Lourdes says its not that way at all. It's like a top, like all the colors in the world are spinning so fast they're not colors anymore and all that's left is a white hum. There was once a man, a crazy who lived upstairs from us. He couldn't talk, just walked around all day with this harmonica in his mouth. Didn't play it. Just sort of breathed through it, all day long, wheezing in and out. That's how it is with me. Love, I mean ...
I always tell people that I became a writer not because I went to school but because my mother took me to the library. I wanted to become a writer so I could see my name in the card catalog.
fb/sc - 2014
.
Ay, Miliano, don't you see ? The wars begin here, in our hearts and in our beds. You have a daughter. How do you want her treated? Like you treated me? All I've wanted was words, that magic to soothe me a little, what you could not give me.
woman hollering creek - and other stories

The only way to fall in love with a book is to meet the right book

LA CASA DI MANGO - the house of mango street - ANCHE IN VERSIONE TEATRALE E TV
I write because the world we live in is a house on fire, and the people we love are burning . Television has grown up in the last 20 years and now is the time to tell our stories .
jake kanter - deadline.com - 2020
https://youtu.be/0Pyf89VsNmg - SC - the story
When I teach writing, I tell the story of the moment of discovering and naming my otherness. It is not enough simply to sense it; it has to be named, and then written about from there. Once I could name it, I ceased being ashamed and silent. I could speak up and celebrate my otherness ...
da introduzione
.
En inglés mi nombre quiere decir esperanza. En español tiene muchas letras. Quiere decir tristeza, decir espera.
.
You know what you are Esperanza ? You are like the Cream of Wheat cereal. You're like the lumps .
.
She looked out the window her whole life, the way so many women sit their sadness on an elbow. I wonder if she made the best with what she got or was she sorry because she couldn't be all the things she wanted to be. Esperanza. I have inherited her name, but I don't want to inherit her place by the window.
.
La disillusione fa presto a prendere il posto della speranza di fronte ad una casa sgradevole, in un quartiere che ha del grottesco, straripante di loschi personaggi che segnano l'infanzia e l'adolescenza di Esperanza e delle sue compagne, cui tuttavia non manca mai la forza di sorridere alla vita.
UN ROMANZo spontaneo, candido, ma allo stesso tempo incisivo e commovente, di tanto in tanto sconcertante, che mette in luce la contraddizione di un mondo legato alla miseria, al sobborgo, al disinganno; quella stessa contraddizione che si percepisce nel toccante finale de La casa di Mango Street, il luogo da cui fuggire, ma al quale non si può fare a meno di tornare
rivistaonline.com facebook.com
E' tutto un chiacchiericcio allegro, a volte sguaiato, a tratti sgrammaticato. Esperanza parla di se e delle donne di famiglia, lo fa con la profondità inconsapevole di una ragazzina che osserva le infelicità montanti, le insoddisfazioni che si insinuano sotto i lavelli stracolmi di piatti incrostati.

E lei sa da che parte vuole stare, sa cosa vuole diventare, anche se è la figlia bruttona che nessuno viene a cercare, Esperanza sa che farà rumore spostando la sedia quando si alzerà da tavola senza sparecchiare, sa che la porta scardinata che sbatterà farà un gran fracasso quando andrà per la sua strada, che sarà il futuro o forse solo e ancora Mango Street.
roberta paraggio - statoquotidiano.it - 2012
A series of poetic vignettes circling around a girl in Chicago named Esperanza Cordero. It was originally published in 1984, but has since been translated into many languages and incorporated into the curriculum at many schools. Cisneros drew on her experiences as a teacher in Chicago to craft a moving, sometimes horrifying portrait of what it's like growing up Latina in the inner city. Even the picture book version of a segment of the book, "Hairs/Pelitos," gets kudos from people. Recommended age: 12 and older. There are intimations of physical and sexual abuse that make it inappropriate for young kids. Despite the topics, the language is elliptical not graphic.
fb/sc - bill vourvoulias latino.foxnews.com - 2013
We do this because the world we live in is a house on fire and the people we love are burning.
from "a house of my own" the introduction to the 25th anniversary edition of the house on mango street - 2013
E_BOOK dal 2013 - inglese e spagnolo
In English my name means hope. In Spanish it means too many letters. It means sadness, it means waiting. It is like the number nine. A muddy color. It is the Mexican records my father plays on Sunday mornings when he is shaving, songs like sobbing.
fb/sc - 2014
http://knopfdoubleday.com/2013/04/29/sandra-cisneros-ebooks
the first time I read the house on mango street, in high school, a teacher described it as a controversial book, maybe because it is so truthful.
That's not controversial. What's controversial to me is the news. I don't see my work as eccentric; I see it as being true to my heart. Everybody else goes to jobs they hate or live in cities they can't stand or follow rules they know are wrong—those to me are the controversial people. I feel like I'm living my truth every day.
brianna wellen - chicagoreader.com - 2015
and you're collaborating on turning the house on mango street into an opera, too?
Yes, it will be an opera, and I'm so thrilled. My mother would love that. She was a big fan of opera, and she would borrow records from the library and sing along with them because she had a beautiful voice. She couldn't understand what she was singing, but she followed the words. She would say 'Sandra, listen,' and just open her mouth. The composer Derek Bermel approached my agent. He wanted to do a suite of songs [based on The House on Mango Street], and he sent along a sample of what he does. It made me cry, it was so grand and so filled with emotion. I started blinking back tears. So he created the suite. I loved it. I thought, 'I can get into this.' And then he said, 'Would you like to work with me and expand it into an opera—and would you like to do the libretto?' I said, 'Isn't that a lovely word, libretto? I would like to add it to what I can do.
romeo rosales - bookriot.com - fb/sc - 30.5.2019
.
You know what you are Esperanza ?
You are like the Cream of Wheat cereal . You're like the lumps
1984
national museum of mexican art - chicago - 2015
At the time I was writing it
it started as my own memoirs
but transformed into a piece of fiction
All the emotions are mine
the setting is mine
the house is mine
But
the characters are a composite
of my students' stories
en.thinkexist.com
banned and challenged YA books
. The Bluest Eye - Toni Morrison
. The Kite Runner - Khaled Hosseini
. The House on Mango Street - Sandra Cisneros
. 1984 - george orwell
latimes.com - 2015
You bring out the Mexican in me.
The hunkered thick dark spiral. The core of a heart howl. The bitter bile. The tequila lágrimas on Saturday all through next weekend Sunday. You are the one I'd let go the other loves for surrender my one-woman house. Allow you red wine in bed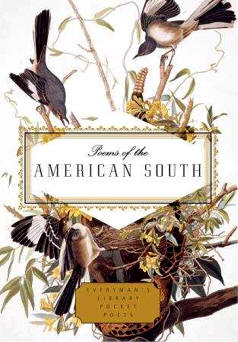 even with my vintage lace linens. Maybe. Maybe. For you. Quiero ser tuya. Only yours. Only you. Quiero amarte. Atarte. Amarrarte. Love the way a Mexican woman loves. Let me show you . Love the only way I know how.
POEMS OF THE AMERICAN SOUTH
This one-of-a-kind collection of poems about the American South ranges over four centuries of its dramatic history. The arc of poetry of the South, from slave songs to Confederate hymns to Civil War ballads, from Reconstruction turmoil to the Agrarian movement to the dazzling poetry of the New South, is richly varied and historically vibrant. No other region of the United States has been as mythologized as the South, nor contained as many fascinating, beguiling, and sometimes infuriating contradictions. Poems of the American South includes poems both by Southerners and by famous observers of the South who hailed from elsewhere. These range from Herman Melville, Walt Whitman, Edgar Allan Poe, and Francis Scott Key through Langston Hughes, Robert Penn Warren, Wallace Stevens, Elizabeth Bishop, James Dickey, and Donald Justice, and include a host of living poets as well: Wendell Berry, Rita Dove, Sandra Cisneros, Yusef Komunyakaa, Naomi Shihab Nye, C. D. Wright, Natasha Trethewey, and many more. Organized thematically, the anthology places poems from past centuries in fruitful dialogue with a diverse array of modern voices who are redefining the South with a verve that is reinvigorating American poetry as a whole.
amazon - randomhouse - fb/sc - 2014
PURO AMOR
Sandra Cisneros has a fondness for animals and this little gem of a story makes that abundantly clear. La casa azul, the cobalt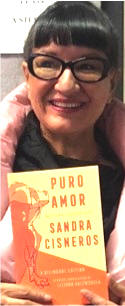 blue residence of Mister and Missus Rivera, overflows with hairless dogs, monkeys, a fawn, a passionate Guacamaya macaw, tarantulas, an iguana, and rescues that resemble ancient Olmec pottery. Missus loves the rescues most because their eyes were filled with grief. She takes lavish care of her husband too, a famous artist, though her neighbors insist he has eyes for other women: Hes spoiled. Hes a fat toad. She cannot reject him. ?because love is like that. No matter how much it bites, we enjoy and admire the scars. Thus, the generous creatures pawing her belly, sleeping on her pillow, and kneeling outside her door like the adoring Magi before the just-born Christ. This beautiful chapbook is bi-lingual and contains several illustrationsline drawings by Cisneros herself.
amazon - 2018 - facebook.com/sandracisnerosauthor/videos
puro amor .pdf - english - short stories - 2015 - fb/sc
short story - puro amor - video 2018 - overheardwithevansmith.org/episode/sandra-cisneros
puro amor
rispetto ai miei romanzi con tante pagine come i precedenti La casa di Mango Street o Caramelo, c'è anche l'albo per ragazzi Bravo Bruno !Puro Amor è qualcosa di diverso. È un'opera di narrativa racchiusa in poche pagine che però diventa anche un album che contiene i miei disegni, pubblicati qui per la prima volta. È la storia di un pittore molto f amoso e di sua moglie, che invece non era così conosciuta. Vivevano nella Casa Azul a Coyoacán, Città del Messico, circondati da tantissime bestiole. Non solo domestiche, anche scimmie, pappagalli, tarantole, iguane. Ovviamente è il racconto di Frida e Diego, quando lui era un artista assai celebre, mentre Frida Kahlo era semplicemente la 'Señora Rivera'. Mi ha colpito il profondo senso di solitudine che lei deve aver provato sia nella relazione complessa con il marito che con la sua malattia e sofferenza. Uno stato d'animo analogo l'ho provato anch'io quando mi sono dovuta confrontare con la morte di mia madre. È stato questo lo sguardo di cui ho fatto tesoro per introdurmi nella loro storia. Una storia che parla anche di come si ama quando si è maturi. I disegni, nel ritrarre gli animali, entrano in contatto con questo sentimento. L'amore non ha confini e può essere esplorato da punti di vista differenti. Non esiste solo quello che riguarda le relazioni fra gli uomini, ma pure con i fiori, gli animali, tutto ciò che dà la luce -sc
manuela de leonardis - ilmanifesto.it - 2019
*
Sandra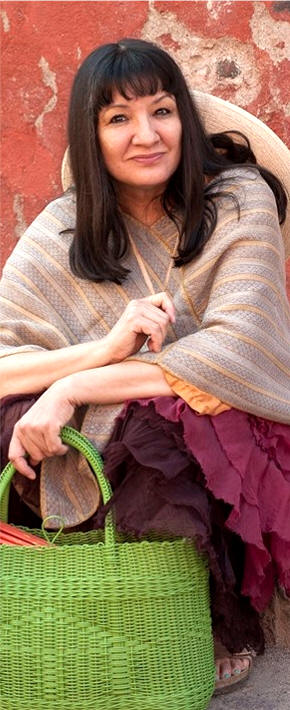 Cisneros on How to Use Literature as an Act of Peace
If you are always with people who think like you, how are you going to grow? -sc
Wearing a beautiful embroidered tunic, Cisneros began her presentation by reading an essay titled "Huipiles," named for the indigenous garments worn for millennia in Mexico.
I wear this textile as a way for me to resist the mexiphobia going on under the guise of Homeland Security. To acknowledge I'm not in agreement with the border vigilantes. To say I'm of las Americas, both North and South. This cloth is the flag of who I am. -sc
aspen words in aspen - co - 2016 caroline tory - aspeninstitute.org
.
CHCI's 2017 Chair's Award
Sandra Cisneros has been a strong voice for the Latino community through her writing. She has mastered the art of poignant storytelling and her works illustrate real life - joys and heartbreak, strength and determination - while encouraging a spirit of kindness and generosity toward all people. Both on and off the page, Sandra is a voice of activism, positive change, and most importantly - hope .
- Congressman Joaquín Castro, Chairman, CHCI
fb/sc - 21.9.2017 - https://youtu.be/jeRycn7gTb8 - bio
.
Lifetime Achievement Award from the TEXAS INSTITUTE of LETTERS 2017
. Sandra Cisneros has been a guiding force in American literature for over thirty years. We are overjoyed at this opportunity to recognize her in Texas, where Sandra has made so many historic and enduring contributions.
. TIL President Steve Davis
.
fORD FOUNDATION AWARD 2017
Sandra Cisneros is a poet, short story writer, novelist, and essayist, whose work explores the lives of the working-class. Her numerous awards include NEA fellowships in both poetry and fiction, the Texas Medal of the Arts, a MacArthur Fellowship, several honorary doctorates and book awards nationally and internationally. Cisneros has fostered the careers of many emerging writers through two non-profit organizations she founded : the Macondo Foundation and the Alfredo Cisneros del Moral Foundation.
.
macondo _ writers
Sandra Cisneros is a potent example of the power of cultural capital. She is a best-selling writer, but also has profoundly invested in our community. Macondo-the writers movement she founded-is a thrilling example of that.
tonydiaz.net - 2018
.
***
altri autori

home