on the road - otr

the road is life

...

And this was really the way that my whole road experience began, and the things that were to come are too fantastic not to tell .

...

L'inizio del nostro viaggio fu misterioso e spruzzato di pioggia . Si capiva che sarebbe stato un'unica grande saga di nebbia . ' Iouuu ! ' strillò Dean . ' Si parte ! ' . Si chinò sul volante e schiacciò l'acceleratore; era di nuovo nel suo elemento, si vedeva benissimo .

Eravamo tutti felici, ci rendevamo conto che ci stavamo lasciando alle spalle confusione e assurdità per compiere l'unica e nobile funzione che avevamo a quel tempo, a n d a r e .

...

Non li vidi per circa due settimane, durante le quali cementarono i loro rapporto portandolo a diaboliche proporzioni di giorno-e-notte . Poi venne la primavera, il momento migliore per viaggiare, e tutti nella banda dispersa si preparavano a questo o quel viaggio . Io lavoravo assiduamente al mio romanzo e quando arrivai a metà, dopo un viaggio nel Sud con la zia per far visita a mio fratello Rocco, mi preparai ad andare a Ovest per la prima volta .

...

The bus roared on . I was going home in October

Everybody goes home in October

...

Some's bastards, some's ain't - That's the score

...

I looked up at the dark sky and prayed to God for a better break in life

and a better chance to do something for the little people I loved

...

I hope you get where you're going, and be happy when you do it

...

there was nowhere to go but everywhere so just keep on rolling under the stars

... non c'era posto dove non si annoiasse e non c'era posto dove andare se non dappertutto

non c'era altro da fare che vagare sotto le stelle - le stelle del west di solito

...

Isn't it true that you start your life as a sweet child

believing in everything under his father's roof ...

...

You can't teach the old maestro a new tune

...

The best teacher is experience and not through someone's distorted point of view

...

The road must eventually lead to the whole world . Ain't nowhere else it can go - right ?

...

He knew the road would get more interesting, especially ahead, always ahead

...

Nothing behind me

everything ahead of me

as is ever so on the road

...

Soon it got dusk, a grapy dusk

a purple dusk over tangerine groves and long melon fields; the sun the color of pressed grapes, slashed with burgandy red, the fields the color of love and Spanish mysteries .

...

Oh, smell the people !

yelled Dean with his face out the window, sniffing.

Ah, God ! Life !

...

Emotionlessly she kissed me
in the vineyard and walked off down the row. We turned at a dozen paces, for love is a duel, and looked up at each other for the last time .

...

So I went up and there she was

the girl with the pure and innocent dear eyes that I had always searched for and for so long . We agreed to love each other madly .

...

And never really thought I'd amount to anything . It was precisely what I wanted the whole world to think; then I could sneak in, if that's what they wanted, and sneak out again, which I did .

...

My aunt once said the world would never find peace

until men fell at their women's feet and asked for forgiveness. But Dean knew this; he'd mentioned it many times .
. I've pleaded and pleaded with Marylou for a peaceful sweet understanding of pure love between us forever with all hassles thrown out - she understands; her mind is bent on something else - she's after me; she won't understand how much I love her, she's knitting my doom .
. The truth of the matter is we don't understand our women; we blame on them and it's all our fault - I said .
. But it isn't as simple as that - warned Dean - Peace will come suddenly, we won't understand when it does - see, man ?

...

Remember that I believe in you

I'm infinitely sorry for the foolish grievance I held against you yesterday afternoon .

...
Bitterness, recriminations, advice, morality, sadness

everything was behind him, and ahead of him was the ragged and ecstatic joy of pure being .
amarezza, recriminazioni, consigli, moralità, tristezza - si era lasciato tutto alle spalle e davanti a lui c'era la gioia aspra ed estatica del puro essere .

...
Stavo meravigliosamente bene e il mondo intero mi si apriva davanti perchè non avevo sogni
I was having a wonderful time and the whole world opened up before me because I had no dreams
...
We were on the roof of America and all we could do was yell
I guess-across the night
eravamo sul tetto d'america e tutto ciò che potevamo fare era urlare, immagino, attraverso la notte
...
I just won't sleep - I decided . There were so many other interesting things to do
...
All he needed was a wheel in his hand and four on the road
tutto quello di cui aveva bisogno era un volante fra le mani e quattro ruote su una strada
...

Nevertheless we understood each other on all levels of madness

...

Sure baby, mañana . It was always mañana
For the next few weeks that was all I heard - mañana a lovely word
and one that probably means heaven
...
There was no end to the American sadness and the American madness
Someday we'll all start laughing and roll on the ground
when we realize how funny it's been
...


SAL ...

DOBBIAMO ANDARE E NON FERMARCI
FINCHE' NON SIAMO ARRIVATI
DOVE ANDIAMO AMICO ?
NON LO SO MA DOBBIAMO ANDARE


sal, we gotta go and never stop

going 'till we get there

> sal paradise : pseudonimo di jk <

parte III - cap 10

...
Un dolore mi trafisse il cuore
come succedeva ogni volta che vedevo
una ragazza che mi piaceva
andarsene in direzione opposta alla mia
in questo mondo troppo grande

...

Something, someone

some spirit was pursuing all of us across the desert of life and was bound to catch us before we reached heaven . Naturally, now that I look back on it, this is only death: death will overtake us before heaven .

...

I BELIEVED
in a good home, in sane and sound living, in good food, good times, work, faith and hope . I have always believed in these things . It was with some amazement that I realized I was one of the few people in the world who really believed in these things without going around making a dull middle class philosophy out of it . I was suddenly left with nothing in my hands but a handful of crazy stars .
...
The mad road
lonely leading around the bend into the openings of space towards the horizon Wasatch snows promised us in the vision of the West, spine heights at the world's end, coast of blue Pacific starry night - nobone halfbanana moons sloping in the tangled night sky, the torments of great formations in mist, the huddled invisible insect in the car racing onwards, illuminate. - The raw cut, the drag, the butte, the star, the draw, the sunflower in the grass - orangebutted west lands of Arcadia, forlorn sands of the isolate earth, dewy exposures to infinity in black space, home of the rattlesnake and the gopher the level of the world, low and flat : the charging restless mute unvoiced road keening in a seizure of tarpaulin power into the route .
...
No matter what you do it's bound to be a waste of time in the end so you might as well go mad .

...

For the first time in my life

the weather was not something

that touched me that caressed me

froze or sweated me but became me

...

And for just a moment I had reached the point of ecstasy
that I always wanted to reach, which was the complete step across chronological time into t imeless shadows, and wonderment in the bleakness of the mortal realm, and the sensation of death kicking at my heels to move on, with a phantom dogging its own heels, and myself hurrying to a plank where all the angels dove off and flew into the holy void of uncreated emptiness, the potent and inconceivable radiancies shining in bright Mind Essence, innumerable lotuslands falling open in the magic mothswarm of heaven .
I could hear an indescribable seething roar which wasn't in my ear but everywhere and had nothing to do with sounds .
I realized that I had died and been reborn numberless times but just didn't remember especially because the transitions from life to death and back to life are so ghostly easy, a magical action for naught, like falling asleep and waking up again a million times, the utter casualness and deep ignorance of it .
I realized it was only because of the stability of the intrinsic Mind that these ripples of birth and death took place, like the action of the wind on a sheet of pure, serene, mirror-like water .
I felt sweet, swinging bliss, like a big shot of heroin in the mainline vein; like a gulp of wine late in the afternoon and it makes you shudder; my feet tingled .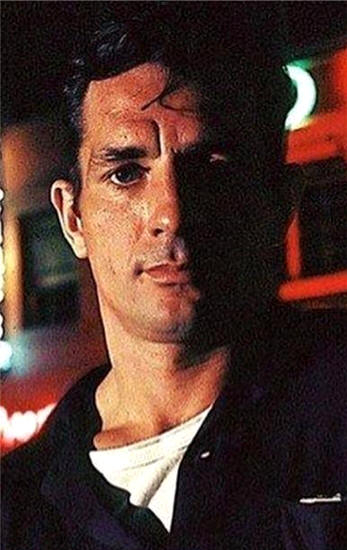 I thought I was going to die the very next moment .
But I didn't die ...
...
At lilac evening
I walked with every muscle aching among the lights of 27th and Welton in the Denver colored section, wishing I were a Negro, feeling that the best the white world had offered was not enough ecstasy for me, not enough life, joy, kicks, darkness, music, not enough night .
...
BUT WHY THINK
about that when all the golden lands ahead of you and all kinds of unforeseen events wait lurking to surprise you and make you glad you're alive to see ?
...
Boys and girls in America
have such a sad time together; sophistication demands that they submit to sex immediately without proper preliminary talk. Not courting talk - real straight talk about souls, for life is holy and every moment is precious .
...
SO IN AMERICA
when the sun goes down and I sit on the old broken-down Pier watching the long, long skies over New Jersey and sense all that raw land that rolls in one unbelievable huge bulge over to the west coast, and all of that road going, all the people dreaming in the immensity of it, and in Iowa I know by now the children must be crying in the land where they let the children cry, and tonight the stars'll be out, and don't you know that God is Pooh Bear ? the evening star must be drooping and shedding her sparkler dims on the prairie which is just before the coming of complete night that blesses the earth, darkens all rivers, cups the peaks and folds the final shore in, and nobody, nobody knows what's going to happen to anybody besides the forlorn rags of growing old, I think od Dean Moriarty, I even think of old Dean Moriarty the father we never found, I think of Dean Moriarty .
...
What do you want out of life ?
- I asked, and I used to ask that all the time of girls .
I don't know, - she said - . Just wait on tables and try to get alon . - She yawned - . I put my hand over her mouth and told her not to yawn . I tried to tell her how excited I was about life and the things we could do together - saying that and planning to leave Denver in two days . She turned away wearily . We lay on our backs, looking at the ceiling and wondering what God had wrought when He made life so sad .
...
HE WAS SIMPLY A YOUTH
tremendously excited with life, and though he was a con-man, he was only conniving because he wanted so much to live and to get involved with people who would otherwise pay no attention to him .
...
It was drizzling and mysterious at the beginning of our journey
I could see that it was all going to be one big saga of the mist . ' Whooee ! ' yelled Dean . ' Here we go ! ' And he hunched over the wheel and gunned her; he was back in his element, everybody could see that, we were all delighted, we all realized we were leaving confusion and nonsense behind and performing our one and noble function of the time, move. And we moved ! We flashed past the mysterious white signs in the night somewhere in New Jersey that say SOUTH (with an arrow) and WEST (with an arrow) and took the south one .
...
It was a hot, sunny afternoon
Reno, Battle Mountain, Elko, all the towns along the Nevada road shot by one after another, and at dusk we were in the Salt Lake flats with the lights of Salt Lake City infinitesimally glimmering almost a hundred miles across the mirage of the flats, twice showing, above and below the curve of the earth, one clear, one dim. I told Dean that the thing that bound us all together in this world was invisible, and to prove it pointed to long lines of telephone poles that curved off out of sight over the bend of a hundred miles of salt .
...
Dean took out other pictures
I realized these were all the snapshots which our children would look at someday with wonder, thinking their parents had lived smooth, well-ordered, stabilized-within-the-photo lives and got up in the morning to walk proudly on the sidewalks of life, never dreaming the raggedy madness and riot of our actual lives, or actual night, the hell of it, the senseless nightmare road. All of it inside endless and beginningless emptiness .
...
I woke up as the sun was reddening
and that was the one distinct time in my life, the strangest moment of all, when I didn't know who I was–I was far away from home, haunted and tired with travel, in a cheap hotel room I'd never seen, hearing the hiss of steam outside, and the creak of the old wood of the hotel, and footsteps upstairs, and all the sad sounds, and I looked at the cracked high ceiling and really didn't know who I was for about fifteen strange seconds. I wasn't scared, I was just somebody else, some stranger, and my whole life was a haunted life, the life of a ghost .
I was halfway across America, at the dividing line between the East of my youth and the West of my future, and maybe that's why it happened right there and then, that strange red afternoon .
...
We give and take and penetrate into incredibly complicated sweetnesses by zigzagging anywhere .
...
web - googlebooks - fb/jk
All I had to do was lean back and relax my soul and roll on
...
Pass here and go on, you're on the road to heaven
...
on the road - the original scroll <<<
A w w w ! <<<
https://youtu.be/rQaPYsepza0 - Jack Kerouac reads On The Road Audiobook with English subtitles