punjabi ਰੂਪੀ ਕੌਰ - october 4, 1992 - queen of the i n s t a p o e t s
the term 'insta poet' is often touted when describing rupi. i asked what her thoughts were . she responded :
. it depends on the connotation, there's some people that have used it positively because they're like : 'oh this is incredible because i never read poetry but feel this in my heart and i saw it through a platform that i used all the time' - and then there's the other consideration where : 'this is insta poetry and not real poetry' - that's interesting because i think it's demeaning to my readers. many of whom are young women .
stephanie pak - arcadia magazine - fb/rk 17.10.2018
.
.
Kaur was born into a Sikh family in Punjab, India. She immigrated to Canada with her parents when she was four years old. Unable to speak English with other children at her school, Kaur was inspired by her mother to draw and paint. She would write poems to her friends on their birthdays and messages to her middle school crushes. She attended Turner Fenton Secondary School.
Kaur studied rhetoric and professional writing at the University of Waterloo. Later, she and her family moved to Brampton. She currently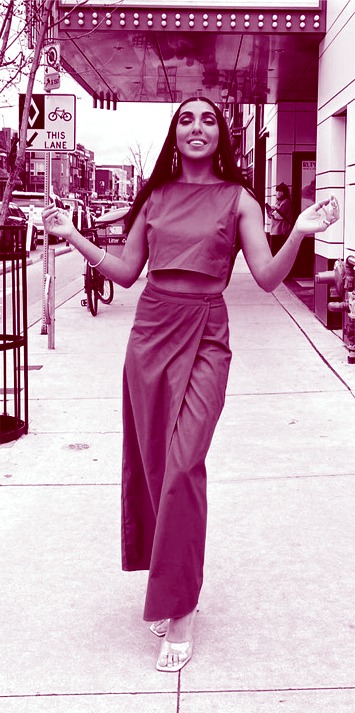 resides in Toronto, Ontario.
https://en.wikipedia.org/wiki/Rupi_Kaur - illibraio.it/rupi-kaur - www.radiocittafujiko.it/rupi-kaur
...
nella scrittura di rupi kaur non ci sono maiuscole
quando comincio a scrivere poesia alle superiori ho un profondo desiderio di scrivere nella mia lingua madre. c'è bellezza nel suo disegno. la gurmukhi è una scrittura punjabi che usa solo il punto. nessun altro segno d'interpunzione. tutte le lettere sono trattate allo stesso modo. nessuna distinzione tra maiuscole e minuscole. mi piace questa semplicità. quant'è simmetrica e assolutamente inequivocabile. per un po' cerco di scrivere poesia in punjabi. ma non ci riesco perché non so utilizzare questa lingua in modo abbastanza viscerale. mi domando cosa accadrebbe se includessi alcune sue caratteristiche nelle mie opere in inglese. solo punti. tutto in minuscolo. è così che nasce la forma visiva di milk and honey.
redazione elle.com - 2018
omaggio alla sua prima lingua, il gurmukhi, considerato sacro : nella scrittura gurmukhi tutte le lettere sono trattate allo stesso modo.
mi piace questa semplicità. questa simmetria e questo andare sempre avanti. è una rappresentazione visuale di quello che vorrei vedere più spesso nel mondo: uguaglianza. per proteggere questi piccoli dettagli della mia lingua li includo in quest'altra lingua ...
Milk and honey è diviso in quattro parti o fasi : the hurting-il ferire, the loving-l'amare, the breaking-lo spezzare, the healing-il guarire.
mio padre una volta mi ha detto che il miele è l'unica cosa che non muore. non importa da quanto tempo è in quel barattolo, dieci anni o cento, il miele, nel suo stato naturale e grezzo, vive per sempre, e penso che sia semplicemente la cosa più bella ...
www.tropismi.it/rupi-kaur-parole-di-miele
.
trovi che il messaggio della poesia sia potenziato o annacquato dal mezzo social network ?
La questione si può vedere da due punti di vista del tutto diversi. Da una parte i social network potenziano immensamente il messaggio, non credo che - almeno dove vivo io, in Canada - la comunità letteraria sarebbe disposta ad apprezzare un libro come il mio milk and honey, perché non lo sente come proprio. È un libro che non ha nulla di canadese, arriva da una giovane immigrata dalla pelle marrone e quindi passerebbe sotto silenzio se non avesse dalla sua parte la forza dei social network. D'altro canto i social non sono il luogo d'elezione della comunità di chi fa letteratura: si parla di Instapoets infatti, con un tono un po' dispregiativo. Il mio sforzo quindi sin dall'inizio è stato bilanciare queste due forze: far accettare la mia poesia dalla comunità degli addetti ai lavori e degli scrittori e al tempo stesso diffonderla tra il grande pubblico attraverso i nuovi media .
www.mangialibri.com/interviste/intervista-rupi-kaur
She inherited her love of art from her mother and began drawing and painting at five years old. She continued her art into her teens, but at the age of seventeen began to focus more in writing and performing.
www.famousbirthdays.com/people/rupi-kaur.html
www.thoughtco.com/5-surprising-facts-about-rupi-kaur
Uncomplicated and concise Kaur's poetry has been criticized for being too simplistic. Parody accounts have shown up on Twitter that intend to show how easy it is to write a Rupi Kaur poem – the gist being you take any conversation, format it in all lowercase and insert random line breaks.
With almost 2 million followers, Kaur has made her straightforward poetry about love, heartbreak and womanhood a global sensation .
shannon carlin - www.rollingstone.com/meet-rupi-kaur-queen-of-the-instapoets
Rupi Kaur non ha bisogno di presentazioni: è la poetessa di Instagram, ha sovvertito il mercato editoriale dimostrando che la poesia e l'autopubblicazione vendono. Questo grazie alla popolarità acquisita sui social network, certo, ma i like non bastano affinché un'opera letteraria funzioni. Ciò che rende merito a Kaur è aver reso la poesia accessibile a chi usa i social come veicolo principale per comprendere il mondo e sé stessi. La sua fortuna è aver colto il compromesso perfetto fra l'aura della poesia e il meccanismo che rende virale la parola scritta. La sua è una lingua semplice ma non semplificata, immediata e che parla per immagini potenti. Potremmo scrollarne le pagine come in un feed e toccherebbe comunque il cuore .
marta traverso - mangialibri.com - 2019
.
- listed in the BBC 100 Women in 2017
- classifica dei primi dieci poeti piu venduti in america 2017 : 1a - rupi kaur
- CLASSIFICA ITALIA 2017-2018 : 3A RUPI KAUR
- traduzioni in circa 35 lingue : al 2022
piegodilibri.it - poesia.argonline.it - wikipedia.org

.